Story
of journeys
Injiri, meaning "real India", historically stands for "real Madras checkered textiles" which were exported to West Africa back in the 18th century.
Launched in 2009 as a clothing brand by Chinar Farooqui, Injiri believes in the beauty of hand-weaving processes. Injiri as a brand is more about story-telling, the end point is reflective of the journey of many processes. We make clothing for women and textiles for home. The brand focus is on textile development and sustainable usage of materials.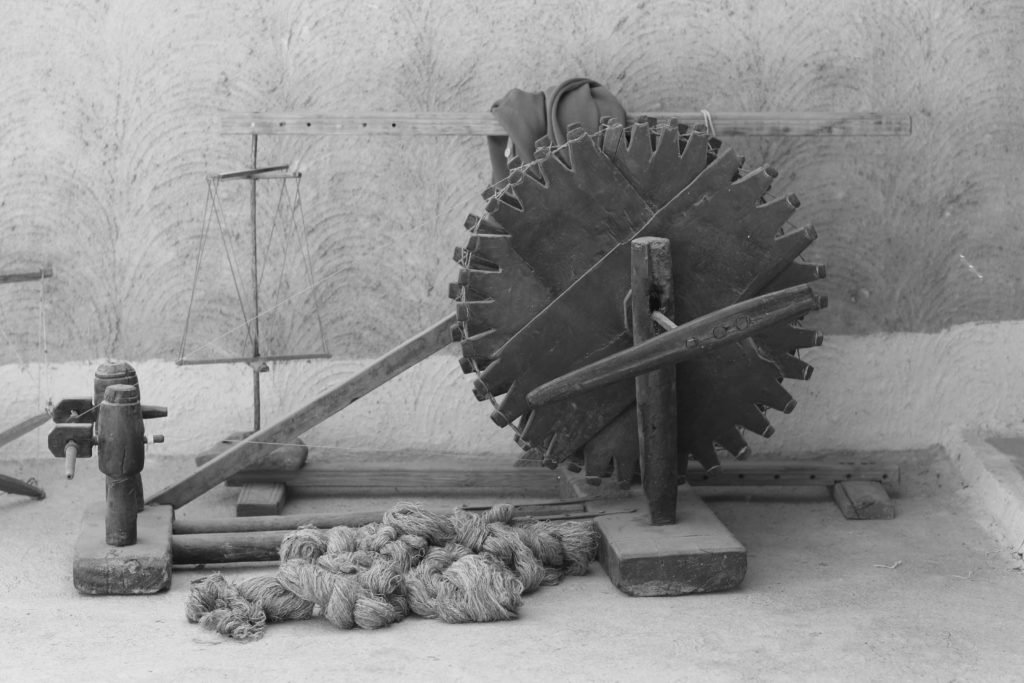 Curating an aesthetic around absolute simplicity and working within the limitations of textile techniques, Injiri is featured and placed in several stores all over the globe. Celebrating the living tradition of crafts in India, the brand has found resonance with aesthetes across the world. One of the brand's many achievements came as the prestigious EDIDA Award for interior textiles in the year of 2016.
Design — 
The Process
India, across her length and breadth, has been the land of extraordinary handwoven fabric of multifarious styles, colours, textures and unique features,  pertaining to the specific region they are grown and spun in.
Our process centers around working closely with master weavers and their textile vocabulary, across various parts of India. We are constantly engaged in conversations with these keepers of intangible human heritage. Design stories start with curating and studying old pieces of textiles which showcase the crafts at its purest forms.
Most crafts in india, especially the ones of textiles, have unique codes pertaining to the geography they come from. From the selvedge being built to protect the fabric for generations of usage, to motifs that reveal the identity of the soil it rises from. We try to focus on such details and build our design stories around them. We celebrate fabric from its inception in the yarn at the end of the process in the tangible product.
Injiri shapes come from an array of inspirations. Some being closer to these weaving clusters we work with and at other times antique pieces of clothing that are obsolete. The simplest of clothes worn by peasants, farmers and common man, inspire us the most.
In olden days making clothes was a very slow process and allowed the maker to do each piece at leisure. In the past woven material was a precious commodity and was used frugally. The "hand-made" quality in antique pieces is very evident and we are inspired by such craftmanship over and over again.
We try to explore without defining how our textiles will end up as products and enjoy the journey of the processes, our creativity takes us through. Not dictated by fashion and trends, our design language is derived from learning and studying  ethnic traditions across the world.
FOUNDER
 — the first seed and her story
The beauty of Rajasthan, a place where Chinar  grew up, is steeped in history and also home to several indigenous handicrafts. Travelling extensively with a love for traditional art and culture, Chinar enjoyed a nurturing exposure towards everything handmade and artisanal.
This penchant for the beauty of traditional objects led her to pursue a Bachelors degree in fine arts  at the historic Maharaja SayajiRao University followed by an intensive Textile Design post graduation at the National Institute of Design,Ahmedabad India.
It was during her design education where her knowledge and interest for Indian textiles deepened. During a documentation process(part of her design program) in Ladakh, Chinar had her first in depth encounter with the people who create traditional textiles, indigenous to a geographical area. This was followed by work trips to clusters such as Lucknow, Chanderi and Kachchh which formed important experiences sensitising her towards the story of hands, lives and history behind such textile art.
Chinar's lac-dyeing research project in Bhujodi, Kachchh was instrumental in reviving techniques of organic dyeing with the initiatives of the  Master weavers.
Chinar founded Injiri in the year 2009 with a desire  to form long lasting liaisons with Indian textiles through her work and on going explorations in regional techniques.